a twisted prismatic approach of the boutique hotel
located on a steep longtitudinal plot at the southern part of meganisi island, greece, 'ampia vista retreat' offers unhindered views of the mesmerizing blue of the bay. barault architects designed an ensemble of volumes that are interconnected as chainrings and anchored around a large zigzag-shaped pool, which acts as the focal point helping guests to navigate easier among the complex.
the volumetric approach draws reference from the typical double pitched and hip roof of the ionian island houses. the exterior hardscapes; walls, and roofs, are clad with earthy tones and natural materials, resembling an austere prismatic sculpture upon which sun shadows are theatrically cast.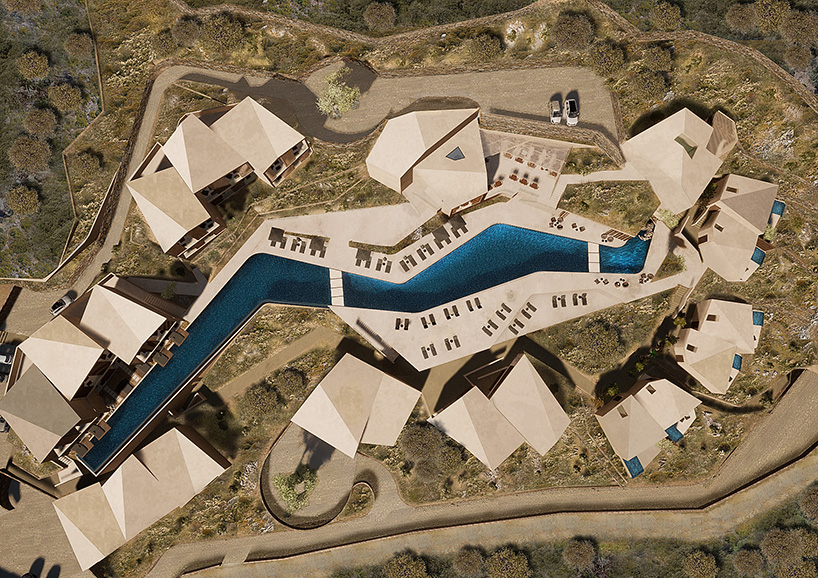 all images courtesy of barault architects
extensive views of the blue, characterize ampia vista retreat 
the boutique hotel complex designed by barault architects (more info here) includes 34 double rooms, eight triple rooms, six luxurious suites, high-standard food, beverage facilities, and a wellness center. its name derives from the italian meaning of the phrase 'ample view', which is the key element of the resort. a main requirement for the design was for all rooms and facilities to provide an unobstructed view of the ionian sea.
as greek villages are anchored on mountainsides and have their public square located at the center, the retreat is deployed on a staggered set of different levels, while the communal spaces, such as the large pool area, the restaurant and bar area are located in the center. the reception lobby, the pool area the restaurant as well as the spa area are all spatially interrelated. the rooms and suites are remotely located in order to provide privacy, solace, and a relaxing ambiance for the guests.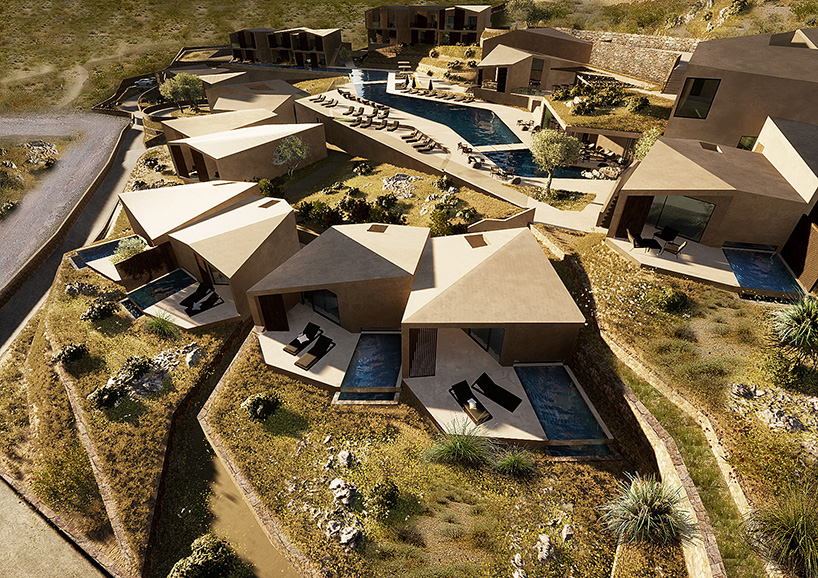 overall earthy coloration merges with the vast olive tree surroundings
the zigzagged water element running through an extensive part of the hotel functions as a linking element of the synthesis. through its angular deployment, it offers different views and creates various relaxing areas around it. by displacing the central axis, asymmetrical prisms become an interesting contrast to the traditional architecture without offending the aesthetics of the island. as a complimentary design element vertical wooden louvers offer protection from direct sunlight. the intentional avoidance of roof tiling was chosen in order for prisms to blend into the hardscapes.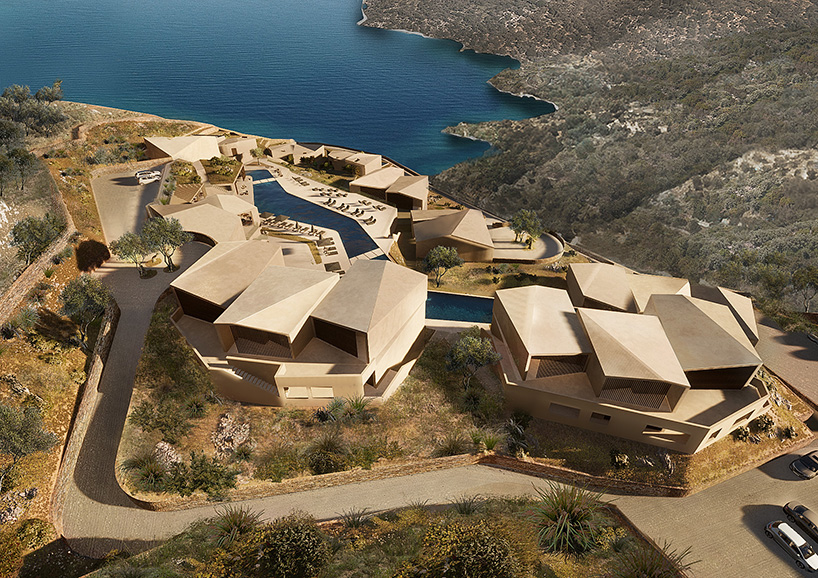 overlooking the ionian sea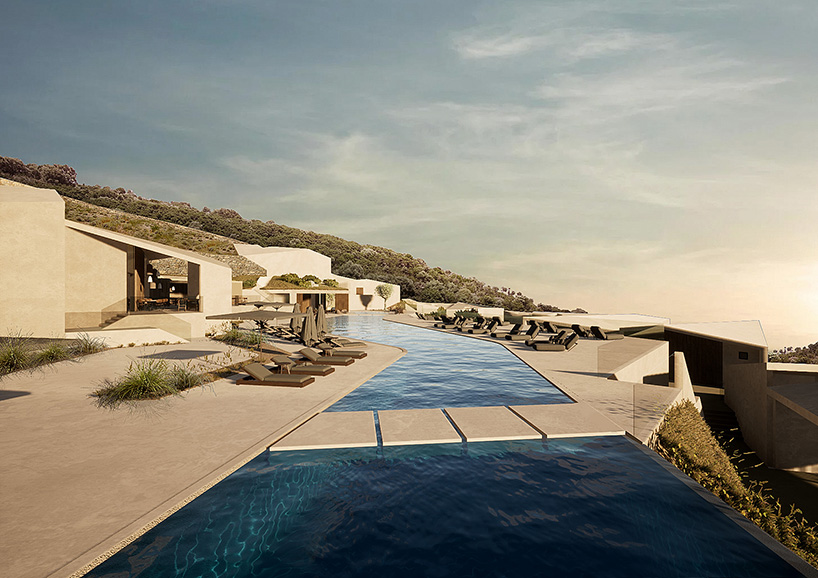 earthy tones and natural materials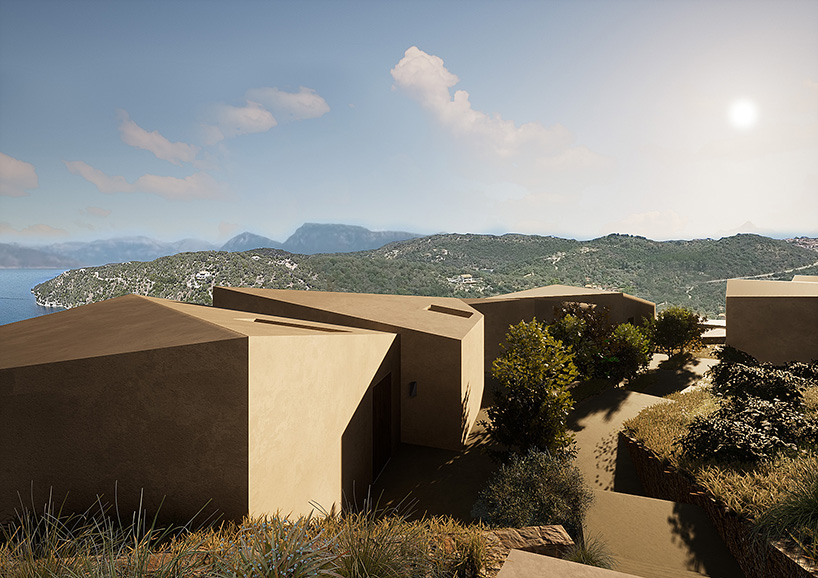 asymmetrical prisms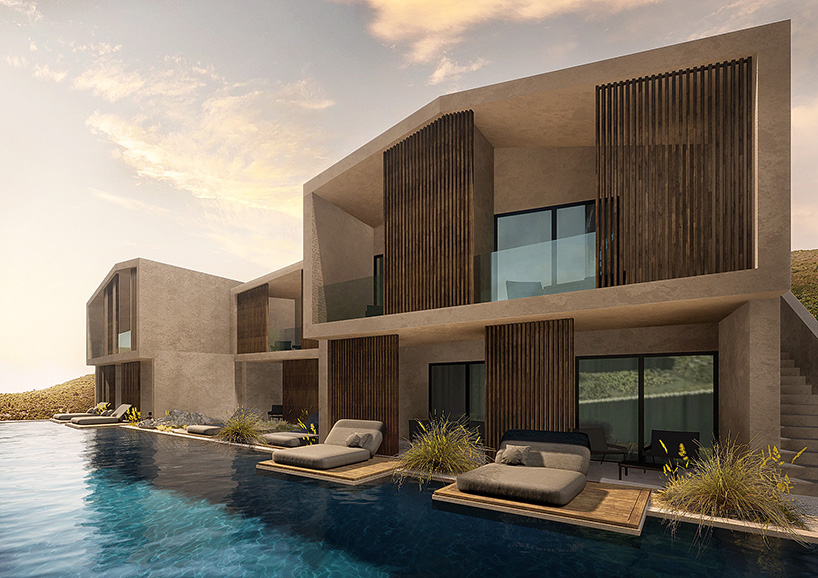 vertical wooden louvers
1/4
merges with the surrounding scenery
interior view
sweeping views towards the sea
earthy tones
project info:
name: ampia vista retreat
architects: barault architects
design team: louis barault, elisania michalopoulou, aliki sigala, stella mitsogianni, xenia bouranta
location: meganisi island, greece
designboom has received this project from our 'DIY…


Read More: zigzag pool carves out ampia vista retreat in greek island