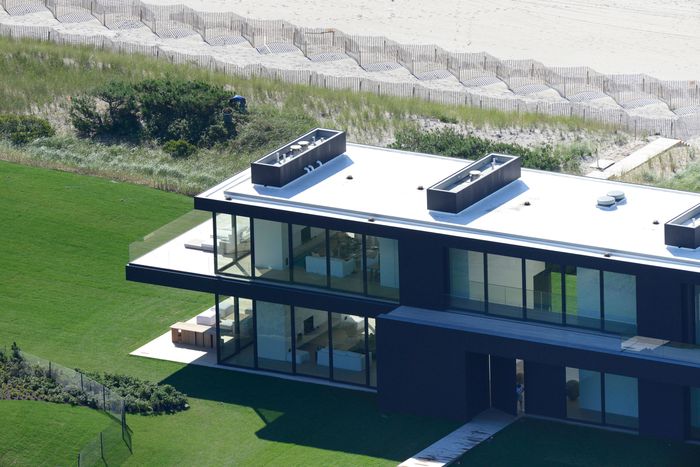 The Southampton house that Klein built and filled with white couch after white couch.
Photo: Doug Kuntz/The New York Times/Redux
A few days ago, it was reported that Calvin Klein had sold his estate in the Hamptons for $85 million. Which was, for anyone who had a passing familiarity with the fashion designer's public life, cause for a double take, because last summer Klein sold another Hamptons house for $85 million. Klein is, famously, a bit of a real-estate fanatic — before he bought a triplex penthouse in one of the Richard Meier buildings on Perry Street, he took the architect up in a helicopter to hover at the exact spot where his apartment would be built so he could check out the views, according to Vanity Fair — but owning, and then selling, two $85 million estates seems like a bit much.
Then again, Klein has never held back when it comes to his real estate. The Southampton estate that Klein sold to billionaire Ken Griffin last year was a minimalist palace that he built to replace the maximalist one that was on the ten-acre oceanfront property when he bought it in 2003. Klein did a gut renovation of the existing house and, unsatisfied with the result, tore it down and started over. "He talks about the house nonstop," the New York Times reported in 2013, when Klein was putting the finishing touches on the place. "He has personally vetted and approved every floorboard and object inside, even designed much of the furniture himself when he thought there was nothing out there that quite met his exacting design standards." Even Peggy Siegal, the once-ubiquitous celebrity publicist, admitted to biking past to get a glimpse. Unlike most Hamptons estates, Klein's did not have a hedge. That would have ruined the aesthetic.
Klein paid a little under $30 million for this Southampton mansion in 2003, which he gut-renovated. Unsatisfied with the result, he knocked it down and started over.
Photo: John Roca/Shutterstock
Klein was so exacting that he built a life-size mock-up of the house in plywood before construction started, according to the Times — a project so substantial that it required its own building permit and cost approximately $350,000. When completed, the actual home had all the Klein hallmarks: a screening room, a water element (in this case, an infinity pool), an uncluttered minimalist aesthetic, and, crucially, "white couch after white couch."
He was no less fastidious when it came to his other properties. In the West Village, Klein hired British minimalist architect John Pawson to do the interiors of his triplex, for which he'd paid $14 million in the early aughts (a…


Read More: Wait, Calvin Klein Just Sold Another $85 Million House?