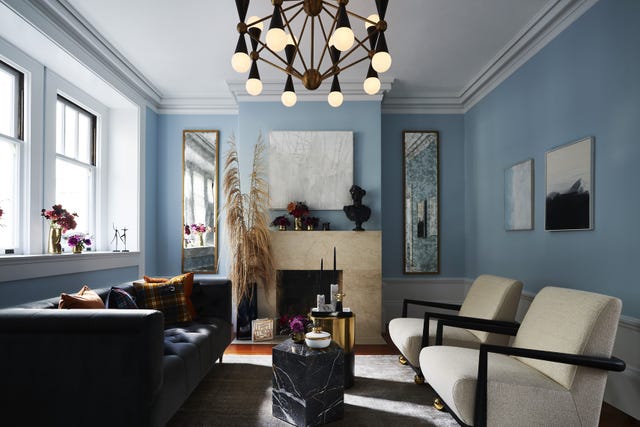 SEAN DAGEN PHOTOGRAPHY INC.
We all have at least one area in our house that we don't quite know what to do with. For one San Francisco family, it was the space right off the entryway and the home office. So they tapped designer Rydhima Brar of Rterior Studio to dream up suitable solutions based on their day-to-day.
Built in 1908, the residence still boasts many of its original elements including the floors, molding, and even some of the lighting. When you walk into the home, there's an odd space Brar calls a "waiting room." "It's too small to be an actual living room, and they didn't know how to treat it," the designer notes.
One complaint the couple had is that their two daughters didn't have anywhere to put their backpacks and shoes. Plus with the weather always changing in San Francisco, a spot to store umbrellas and jackets is essential. The fix? Creating a fancy, high-end mudroom, since it's an open area the family passes through on a daily basis.
Before
Brar incorporated minimal pieces of furniture into the glorified mudroom including a West Elm wall storage unit, a Nuevo Living chair from Burke Decor, and a CB2 side table. A AllModern floor lamp and a CB2 area rug tie the space together. In a nook on the opposite end, Brar added a few monochromatic pieces—a console table with poufs, both from CB2, and other accents—for a romantic feel that also highlights the vintage staircase and flooring.
"We wanted to be a little bit budget-friendly for this because they have younger daughters and might want to change this furniture out a couple of years from now," Brar explains. "Most of it was a good balance between a few luxe items and a few budget items."
The same concept was brought into the office area, a room the clients wanted to get multifunctional use out of and infuse with a more contemporary design. The couple loves to entertain and wanted a cozy area to do so, but at the same time, the husband needed a workspace. "We came up with this concept of a cigar bar gentlemen's lounge, so the color palette and the way the room was set up is like an office that's almost Godfather-y," Brar says.
Another inspiration for the office-slash-entertaining area? The Villon restaurant, which is part of the San Francisco Proper hotel. The clients love it, so some of the colors, materials, and styles were picked up from that space. Standout pieces include a new chandelier and chairs by Jonathan Adler, a custom chesterfield sofa by Interior Define, and a CB2 rug. Behind a French neoclassical desk from RH, wallpaper by DropItModern adds elegance and acts as a placeholder until the couple finds a big piece of art they both love.
"We didn't want…


Read More: This Sleek Home Office Doubles as a Cozy Entertaining Space