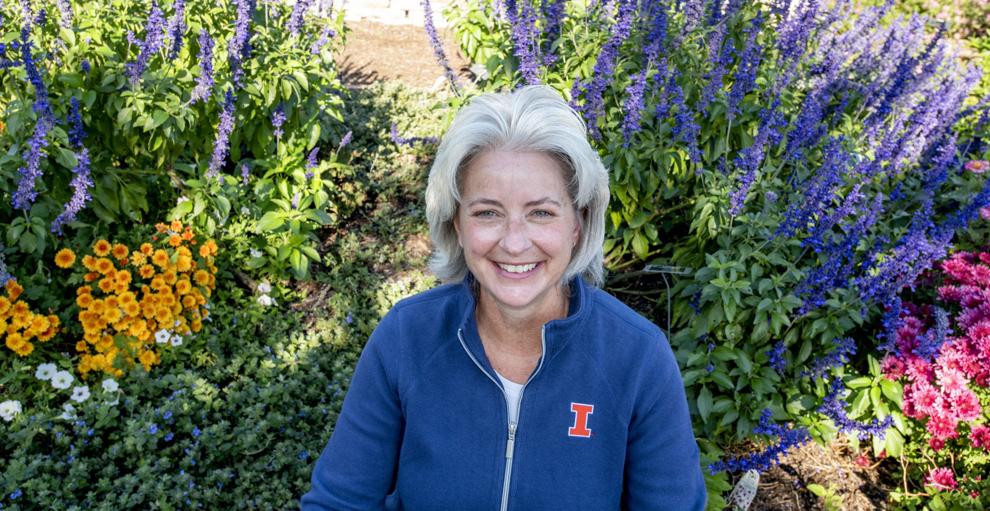 For KIM KIDWELL's money, there's no place on campus like the Arboretum — the spot that felt the closest to home as an undergrad in the '80s and an administrator these days.
"I am from Danville, which is a beautiful wooded region with lots of natural areas and waterways for outdoor activities," she says. "I spent most of my childhood there playing outside or riding a horse.
"The Arboretum was my go-to place for decompressing nature walks or runs when I was a student. I get my best ideas when immersed in nature so I still spend a lot of time in the Arboretum. I find the grounded peacefulness of the space to be inspiring."
A 1986 agricultural sciences grad, Kidwell returned to her alma mater right around this time five years ago after a 27-year run at Washington State to become the first female dean of the College of ACES.
This fall brought another first, when Chancellor Robert Jones appointed her the inaugural associate chancellor for strategic partnerships and initiatives.
Kidwell, who holds two degrees from Wisconsin and remains a tenured UI faculty member in crop sciences, took us for a guided, virtual tour of some of her favorite places and spaces on and around campus.
The most memorable place I lived as a UI student
Living in Scott Hall, even in the '80s, was a best/worst experience. I loved the people and the community we created there but the building was well-worn, even way back then.
Not having air conditioning on those hot September nights built resiliency — and elicited a lot of complaints — within the resident cohort.
Where I was when I got great news
I was working late one evening as an undergraduate researcher in Dr. John Laughnan's lab in Burrill Hall when my soon-to-be-advisor, Dr. Tom Osborn, called the lab phone to tell me I was accepted into the Plant Breeding and Plant Genetics program at the University of Wisconsin.
It was a…


Read More: My Campus: Newly named Associate Chancellor Kim Kidwell | News