On May 21, a ceasefire was agreed to between Israel, Hamas and Islamic Jihad, putting an end to a bloody 11-day conflict. Despite the relative calm that has ensued, the violence of these past weeks across Israel-Palestine has unveiled distinct urban fronts.
The conflict was triggered in the Sheikh Jarrah neighborhood of East Jerusalem and the al-Aqsa Mosque on the Temple Mount in the Old City of Jerusalem. It took hold of the Israeli so-called mixed cities, such as Jaffa and Lod/al-Lidd, and engulfed Gaza, where Israeli air raids retaliated against the rockets Hamas fired on cities including Tel Aviv.
For some, this felt like civil war. As our research demonstrates, these urban frontlines reveal how urban planning itself is weaponized.
Across the territory, cities and towns are controlled and demographically engineered by the state. This occurs on both sides of the Green Line (the 1949 ceasefire boundary between the West Bank and Israel, which Israel rejects as indefensible), in the West Bank itself and in the Gaza Strip. Increasingly seen as an apartheid regime, the government's goal throughout is to encourage Jewish expansion and restrict Palestinian growth.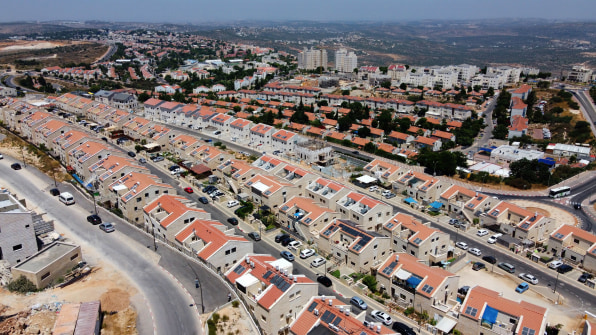 The mixed city
Heterogeneity is a basic urban condition. The term "mixed city," widely used in Israel to describe an urban conglomeration occupied by Jewish and Arab communities, suggests a diversified and well-integrated society.
The reality, however, is that Jewish and Arab residents are divided – both spatially and socially – through an ongoing Judaisation of the territory. The state apparatus is actively spreading Jewish populations while dispossessing Palestinian populations.
This process is rooted in Israel's territorial and urban history. After the Palestinian Nakba ("the catastrophe") and the establishment of the Israeli state in 1948, the Palestinian citizens who stayed became a marginalized minority. Many of their cities, meanwhile, were transformed by Israeli Jewish town planners and residents.
The example of Lod/al-Lidd is instructive. The 1948 war saw 250 Palestinians killed in the city and a further 20,000 become refugees.
The Israeli Military Administration initially placed the 1,030 people who remained under strict surveillance in an enclosed area known as the Sakna. The city's Palestinian houses and land, meanwhile, were expropriated by the state, who redivided and rented them out to Jewish immigrants.
From the 1950s, the state drew up a master plan for the city, now known as Lod. Intensive demolition (of the historical urban fabric) was followed by extensive reconstruction (of modernist housing blocks, infrastructure and services) to the benefit of Jewish immigrants. Palestinian housing and infrastructure needs, however, were overlooked.
Waves of internally displaced Palestinians have since settled in Lod, from Bedouins whose lands in the Triangle region were…


Read More: In the Israel-Palestine conflict, urban planning is the ultimate weapo